Regular price
Sale price
$59.50 AUD
Unit price
per
Sale
Sold out
A gift set of three textured pillar candles in an earthy sandstone tone and various sizes. Great for home styling, celebration or quiet reflection. 
Soft and nurturing in the still moments, illuminating and celebratory for those special highs; candles are the perfect accompaniment.
This trio of unscented, rustic pillar candles has been hand-poured at low temperature to create a unique, natural texture. Due to the nature of the cold-pour process, no two candles are the same.
Gift box contains 3 Sandstone Textured Pillar Candles:
• 1 x Small (7 x 7 cm)
• 1 x Medium (7 x 14 cm)
• 1 x Large (7 x 21 cm)
Our textured pillar candles have been designed not to drip or smoke as long as they are kept away from draughts and not burned too closely together. Poured from the finest wax and finished with a 100% natural, cotton wick.
Free shipping within Australia. See delivery info for details.
Christmas Shipping

Christmas Order Dates




The table below indicates the latest possible order dates for which our couriers can guarantee (external circumstances aside) that your delivery will reach its intended destination in time for Christmas (24 December).

Pickup from our showroom and local delivery are available until the 22rd of December.

| | |
| --- | --- |
|  Destination | Order on or before |
| Pick up | Dec 22 |
| Local delivery (NSW 2102-2108) | Dec 22 |
| Sydney | Dec 18 |
| Melbourne, Brisbane, Adelaide, Canberra | Dec 13 |
| Regional NSW | Dec 13 |
| Perth | Dec 4 |
| Regional QLD, VIC, SA | Dec 4 |
| WA, FNQ, TAS, NT | Dec 4 |

Need it urgently?

Contact us for express shipping options for your order, including next day delivery to select locations.
Specifications

• Fragrance free
• Burn time: 30, 60 & 120 hrs
• Dimensions: 7 x 7/14/21 cm (D x H)
• Colour: Sandstone
• Wax type: Fully refined mineral wax
• Wick: 100% cotton
• Smoke & drip free: our candles are designed to burn evenly all the way down. Keep out of draft.
Shipping & Returns

We offer free shipping on orders of $99 and over. Orders below $99 are sent at a flat rate of $9.95.

Orders will be despatched on the next business day, and are usually delivered within 2-6 business days to most destinations* within Australia. Please note that we cannot guarantee delivery times.

Candles are heavy yet fragile; for your convenience as well as to ensure a safe transit, we use a door-to-door courier service to send your order.

Please note we cannot ship to PO Boxes, Parcel Lockers or Parcel Collect, as our couriers are not able to deliver there.

| | |
| --- | --- |
| Order details | Delivery options |
| Orders of $99 and over: | Free shipping Australia-wide |
| Orders below $99: | Flat-rate shipping $9.95 |

You will receive a despatch confirmation email with tracking details once your order has gone out. If you have any questions about our shipping options or your order, don't hesitate to get in touch.

*Please note shipping times can be up to 11 business days to FNQ, NT, TAS and WA.
Personal Note

Follow the steps below to add a handwritten note to your order. Our candles are sent without invoice or receipt.

1. View my cart
Once you've added your product(s) to your cart, select 'view my cart' before going to checkout.

 

2. Add note
On the 'cart' page, add your note

3. Checkout
Continue with your checkout.
Care Instructions

Getting Started

To get the most out of your Candle Kiosk candle, trim the wick to 6mm & burn it until the wax pool reaches the edge of the candle the first time you light it to maximise the size of the burn pool.

This is because the size of the wax pool during the first burn determines the life of the candle. Subsequent burns won't melt the wax beyond the initial wax pool, so if it didn't melt close enough to the edge of the candle, it could leave a thick, unused mantle ('tunnelling').

Dripping

To avoid dripping, do not expose candles to a draught and do not place them too close together. If dripping occurs, remove the source of the draught, place candles further apart or place the candle on a drip tray

Candle Care

• Trim wick to 6mm before lighting
• Place burning candles 10cm apart
• Avoid drafts to prevent drip & smoke
• Use a heat-proof non-flammable base
• Don't burn a candle all the way down
View full details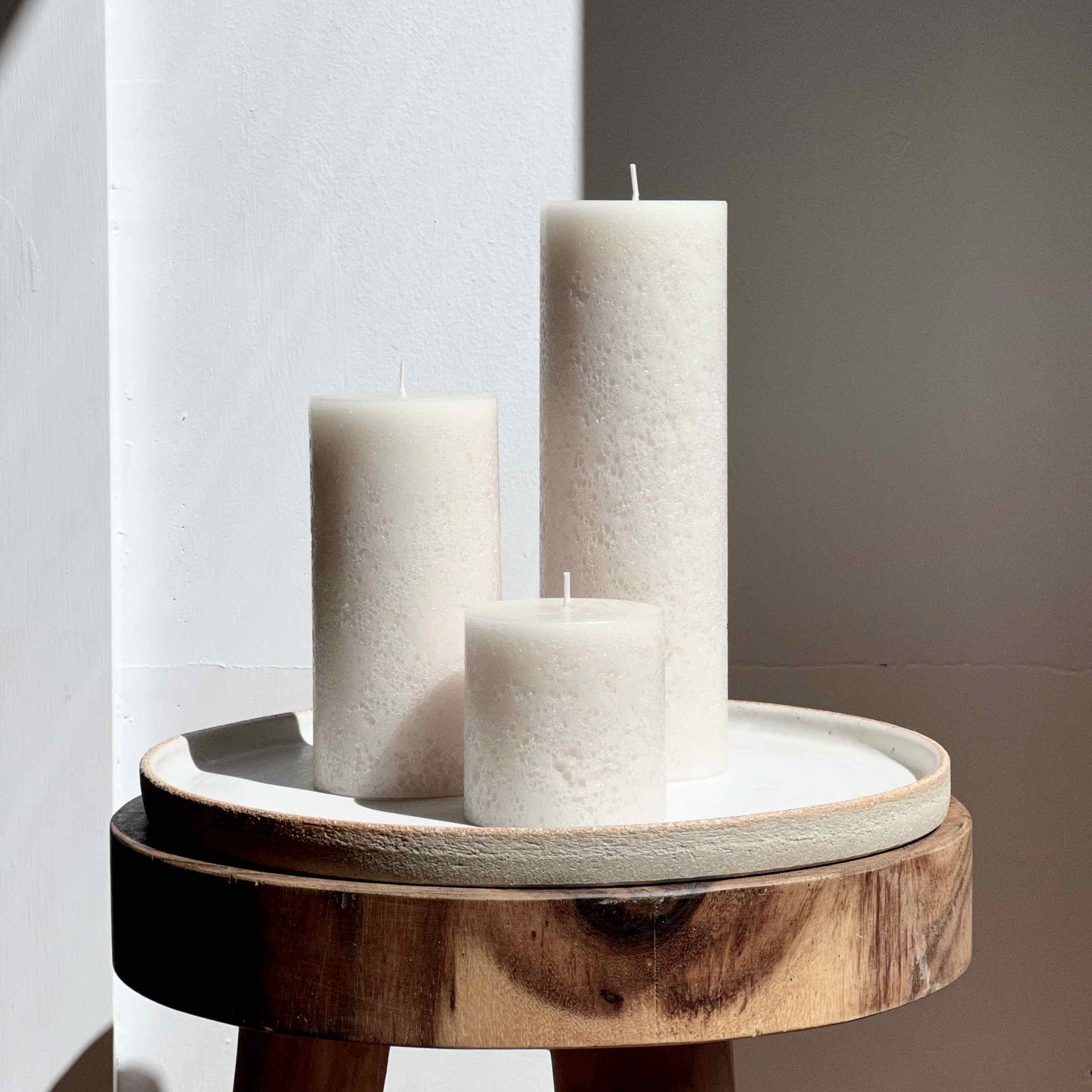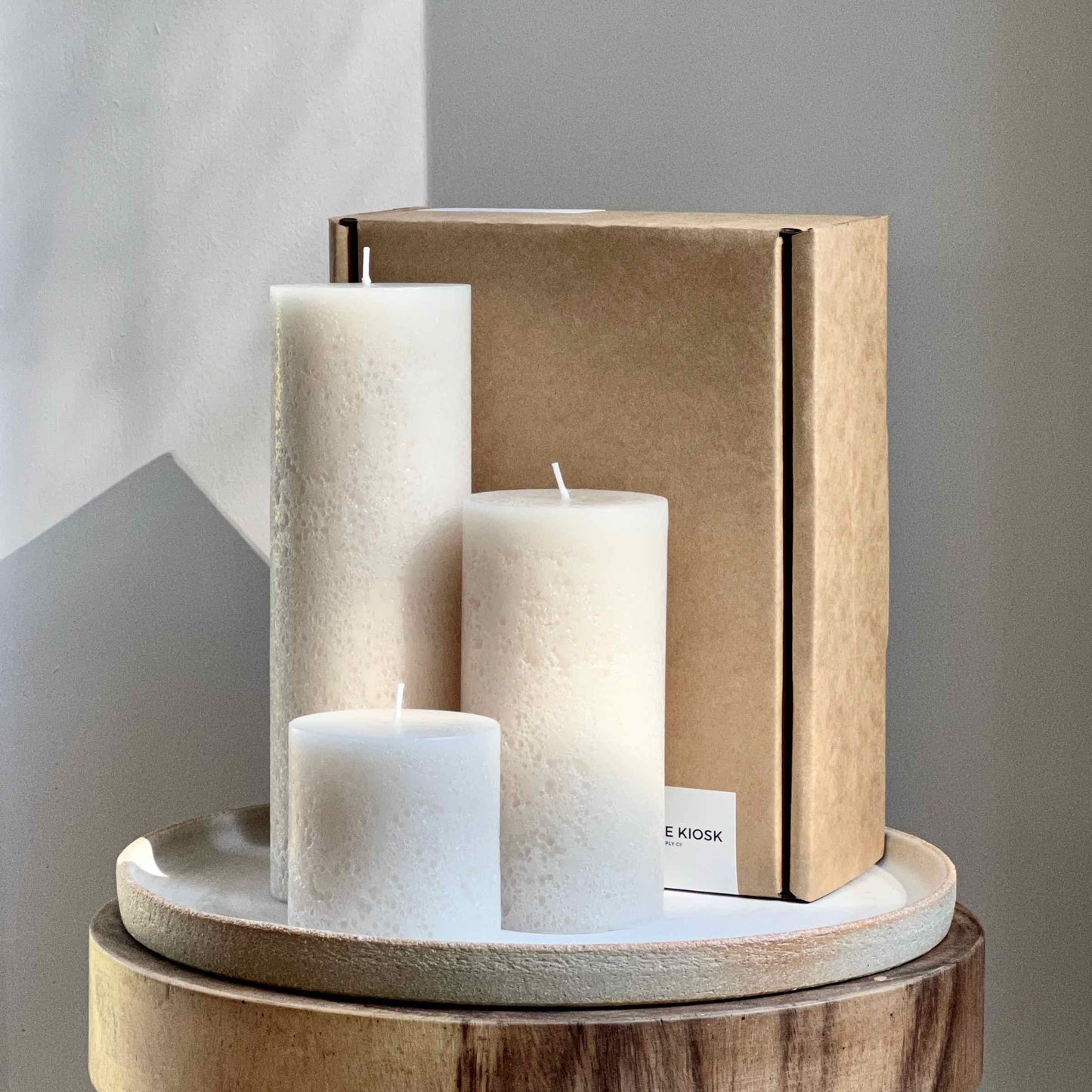 Features
Calm, clean burn

Candle Kiosk candles are made of the finest, purest wax and finished with high quality cotton wicks to ensure a beautiful, clean burn. Our candles are designed to burn evenly all the way down without dripping, smoking or tunnelling

Wrapped in paper

We make our packaging out of recycled paper, from the box to the protective buffers inside it. And the candles are individually wrapped in tissue paper, not plastic. So we can ship our candles undamaged, without damaging the world.

Design, not scent

We create candles not as scent, but as design objects; everyday sculptures in wax that mesmerise as they slowly burn down and change shape. So your candles are hypoallergenic, pet safe and don't overpower the taste of your food, wine or coffee.
With a focus on the purity and beauty of simple shapes, textures and forms, we design candles as objects, not scent.